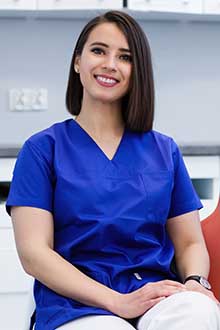 Make an appointment
to Dr. Natalia Grychowska
Dentist Natalia Grychowska
Dentist, prosthodontist specialist
She graduated from the Medical University of Wrocław at the Faculty of Medicine and Dentistry.
Since 2016 academic teacher. In the Department of Dental Prosthetics he works to this day and educates subsequent generations of dentists.
In 2021, she passed the State Specialization Exam and obtained the title of specialist.
She is the author of several scientific publications and over thirty speeches at national and international conferences. She presented her scientific achievements in Madrid, Dublin and Verona. She completed an internship abroad at the Semmelweis University in Budapest. At the Medical University of Wroclaw, she was very active in various organizations aimed at developing her own knowledge and sincerity of pro-health behaviors in society. She was the President of the Polish Society of Dental Students, branch in Wrocław. Laureate of the scholarship of the Minister of Science and Higher Education.
He is currently in the process of obtaining the title of doctor of medical sciences.
Active member:
Polish Dental Association
Polish Society of Functional Disorders of the Chewing Organ
Polish Society for the Study of Pain
She performs treatments in the field of conservative dentistry, dental prosthetics and aesthetic dentistry. For me, dentistry is synonymous with continuous development, challenge and, above all, satisfaction.
In her free time, she likes a good book, photography and meetings with friends.