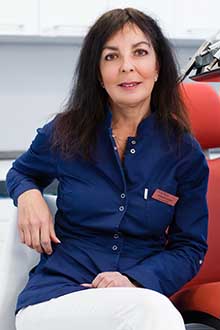 Make an appointment
to Dr. Barbara Gdula
Dentist Barbara Gdula
Doctor dentist, graduate of the Medical Academy in Wrocław.
In 1991, she opened the first Vita-Dent office in Kiełczów.
He has more than 20 years of practice and a multitude of dedicated and satisfied patients.
However, he does not rest on his laurels and therefore takes part in numerous scientific conferences, courses and trainings, where he learns about the latest therapeutic trends in dentistry.
Always smiling and cheerful. In 1993, she received a Specialization of General Dentistry with a "very good" result.
Thanks to the completed trainings in the field of aesthetic medicine, he is able to meet the highest expectations of patients, also in this dynamically developing branch of medicine.
Scorpio's zodiac sign. She loves travel, moral cinema and good books, although there is always no time for it, because in winter outside the office of the doctor is easiest to meet on the ski slopes.