Dentist Wroclaw – Doctor Grzegorz Gdula
Doctor dentist, graduate of the Medical Academy in Wrocław. He was a trainee at the Clinic of Maxillofacial Surgery in Wrocław, which developed an interest in dental surgery and modern medical procedures. At the dental center, Vita-Dent is involved in implantological and prosthetic treatment. During numerous implantological procedures, he has already implanted over 1000 dental implants – both to recreate single or several teeth in the form of crowns and bridges on implants as well as to stabilize total dentures on implants . He is a member of implantological societies in Poland and abroad:
PSI – Polish Implantology Associations
ICOI – The International Congress of Oral Implantologists
DGOI – Deutsche Gesellschaft für Orale Implantologie
Dentist Wrocław doctor Grzegorz Gdula has dozens of ideas per hour and always a cheerful mood. He knows that whoever does not go forward goes backwards, which is why he takes part in numerous courses and trainings, as well as conducts scientific activities, which allows him to be up to date with all the novelties in the field of dentistry.
In July 2011, he opened a new vita-dent headquarters in the centre of Wrocław at ul. Nobel prize. His dream was to create a cabinet that could provide comprehensive assistance in the most difficult dental cases. Therefore, the newly established clinic was equipped with its own X-ray laboratory, including dental tomography, and in the immediate vicinity there was cooperation with a modern prosthetic laboratory. Because people are responsible for healing success, vita-dent dental office is working on a team of dentists who focus on continuous training and improving their qualifications.
Dentist Grzegorz Gdula enjoys traveling, reading and taking part in competitions in his spare time, but his two greatest passions are running, snowboarding and mountain biking. As soon as he finds a moment of time, he searches for new bike routes and prepares for mtb marathons, in which he loves to take off.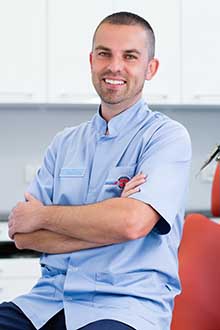 Stom. Grzegorz Gdula[/ caption]