MDI 3M miniimplant prosthesis
The lower overall prosthesis in the absence of one's own teeth is a nuisance of many patients. Such prostheses, due to instability in the mouth, often prevent free food, speaking or smiling. This is due to the anatomical conditions of the lower jaw and such a structure, which prevents a certain and strong stabilization of the lower prosthesis. An excellent solution in such a situation is treatment with single-piece miniimplants. The use of such treatment is possible even in patients with high bone atrophy of the lower jaw. In case of good bone conditions, it is possible to immediately stabilize the lower prosthesis immediately on the day of the procedure. The u.S.-patented treatment technique with 3M MDI miniimplants involves implanting 4 implants into the lower or upper jaw and immediately stabilizing the prosthesis on them with ball latches.
The total prosthesis
placed on the ball abutments of mini-implants shows excellent fixation and stabilization. It is also possible to significantly reduce its size, as maintenance is provided by implants and not through the adhesion forces between the gums and the disc of the prosthesis. Such a solution is a very comfortable and increasingly used alternative for oral prosthesis. Implant implantation surgery is usually carried out on a single visit usually takes about 1 hour. After a consultation visit and execution to examine the ctsography, the course of the procedure is as follows:
Stage one: The dentist, after becoming familiar with the computed tomography examination, determines the optimal position of mini-implants, taking into account the bones and the position relative to the future prosthesis.
Stage two: Under local anesthesia, the doctor introduces 4 one-piece mini-implants. The procedure is much less invasive than the implantation of traditional implants, because if the bone conditions allow it, there is no need to cut the gum or put on the seams.
Stage three: After implantation, the dentist glues ball latches inside the patient's existing prosthesis, or makes a new prosthesis and only after it is made it will be fixed on the implants. Immediately after the procedure you can function normally, eat and smile – with a perfectly stable prosthesis.
Stage four: After about 7 days, a follow-up visit is indicated to assess the healing of tissues around the implants and check the fit and stabilization of the prosthesis.
Faqs:
whether the small size of implants reduces their durability to avoid loosening of implants, the dentist during the analysis of computed tomography always selects the optimal length and diameter of future implants, 20 years of experience and clinical trials do not show less durability of work on MDI miniimplants – however, it is important to use 4 implants in accordance with the patented procedure because only then can long-term durability be guaranteed
Is the procedure painful? – the procedure is performed under local anesthesia and is completely painless. Due to low invasiveness, there is also post-treatment swelling, as well as no need for analgesics
Can this type of treatment be given to every patient? – The main advantage of mini-implants is that they can be used even in patients with severe bone atrophy, in whom traditional implants cannot be implanted without expensive bone reconstruction procedures. Qualification of the patient for such treatment is carried out by analyzing computed tomography and assessing the conditions in the patient's oral cavity
See the effects of treatment: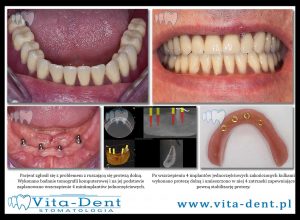 Prostheses on mini-implants Wrocław